Bonus Warm Up: Homophones:!



Spell all three correctly for +3!
"Vocab, 9/18." (10p)
_____
_____
_____
buy : sell :: boycott : ____
legitimate : illicit :: combined : ____
The teacher tried to ____ the correct response from the students by giving hints.
This word literally means "discovered speechless." ______
I did not want to be ___(ed); I felt I was savvy enough to make my own decisions.
I was _____ to tell the teacher about the cheating I saw, because the person was my friend.
I am never going to ____ that store again after they were so rude to me.
FROs!
F

ragments and

R

un

O

ns.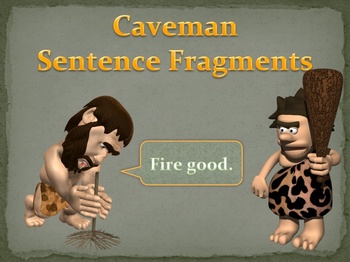 What's wrong with this? What's missing?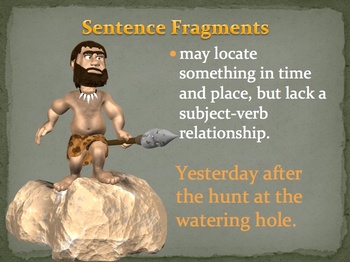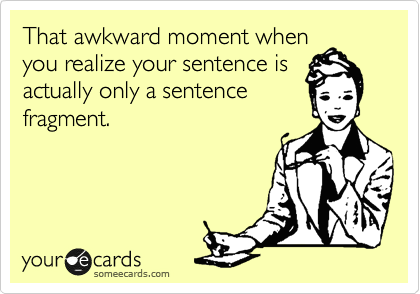 Why is this ironic and funny?
Run-on Examples from "Messy Room."  Oh My My…
What does a sentence have to have?
What is a sentence fragment? How could we fix it?
What is a run-on? How could we fix it?

"FRO Practice I, 9/18."  (7p) Write CS, F, or RO for each word group. Tell how to fix the FROs for extra credit!
Laughing at the comedian's act.
Chief Wiggum, the doughnut-eater and chief cop.
Up the mountain we hiked.
The wagon was loaded with food it was pulled by two teams of horses.
There are shells all over the beach let's collect some!
On his back, the bug wriggled his little legs.
Into the hole fell he.
I love that story; I have read it three times.
The Outsiders. Quick Quiz.
The fact that Johnny is getting more out of the book they're reading than Pony, even though Pony is the "smart" one, is an example of irony.  a) True  b) False
The real message of  "Nothing Gold Can Stay" is that bad things always happen.  a) True  b) False
Which quote so far best connects to the title of the novel?  a) "How'd you like to live with that?"  b) "I guess we're different."  c) "Too bad it couldn't stay like that all the time."  d) "Things have been happening so fast…"  e) "I bet they were cool old guys."
The same character said all five of the quotes in the previous question. Which one?  a) Pony  b) Soda  c) Dally  d) Johnny  e) Darry  f) Two Bit  g) Steve
Chapter 5 would be considered part of the ______ of this story.    a) exposition  b) inciting incident  c) rising action  d) climax  e) NOTA
Read Aloud….