ANNOUNCEMENT: I will NOT CLEAR ANY ZEROS via e-mail.
YOU MUST come to the afternoon minutes to clear a zero.
REPEAT: ZEROS MUST BE CLEARED "IN PERSON" IN THE AFTERNOON MINUTES.
Definitions due today.
CHECK IN in CHAT: A word that begins with the letter T.
---
---
Debrief Test #4.  Some people had issues with weird characters in the apostrophes section! Please make sure your Chromebook is set on US keyboard.
---
"Vocab, 10/21 (10/22)" You will use words more than once. You won't use them all.
1. smolder  2. circumvent  3. reminisce  4. sullen  5. siege  6. defunct  7. exploit  8. delirious  9. premonition  10. cease
_____
_____
_____
_____
_____
At the family reunion, we sat around ___(ing) about the last reunion.
The world traveler's _____(s) made for an exciting book.
The quarterback ____(ed) every weakness in the defense, and threw for 5 touchdowns.
"Johnnycake made a kind of a gasp and his eyes were ______(ing) with rage."
Ponyboy has a ______ when they first arrive at the church that something bad might happen. (Bonus: What's the literary version of this?)
reminisce : predict :: obey : _____
PLOT.
COPY the diagram below into your notebook. When you are finished, hold it up to the camera!
Use the terms from the chart and try to answer the five questions below.
Time Limit: 8 minutes.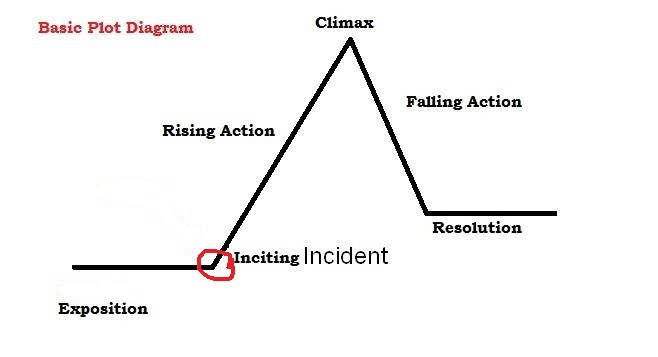 "Plot, 10/21 (10/22)." Use one of the terms above.
The 5 W's (who, what, when, where, why) is usually given to us during the ______ of the story.
"And they lived happily ever after," would be the _____ of a fairy tale.
The part where meet the boys in Pony's gang is part of the _______ of the story.
The part of Green Eggs and Ham where he finally tastes it would be the _____ of the story.
The scene where Johnny stabs Bob is the _____ of The Outsiders.
What part of the story are we in now in The Outsiders?


---
What would the inciting incident be in… Hatchet? Finding Nemo?  Lion King? Frozen? The climax?
---
The Outsiders aloud, chapter 4 —>