S.E. Hinton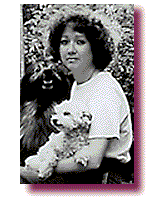 By the time she was 17 years old, Susan Eloise Hinton was a published author. While still in high school in her hometown--Tulsa, Oklahoma--Hinton put in words what she saw and felt growing up and called it The Outsiders, a now classic story of two sets of high school rivals, the Greasers and the Socs (for society kids). Because her hero was a Greaser and outsider, and her tale was one of gritty realism, Hinton launched a revolution in young adult literature.

Since her narrator was a boy, Hinton's publishers suggested that she publish under the name of S. E. Hinton; they feared their readers wouldn't respect a "macho" story written by a woman. Hinton says today, "I don't mind having two identities; in fact, I like keeping the writer part separate in some ways. And since my alter ego is clearly a 15-year-old boy, having an authorial self that doesn't suggest a gender is just fine with me."

Today, more than twenty-five years after its first publication, The Outsiders ranks as a classic, still widely read and one of the most important and taboo-breaking books in the field. Finally, someone was writing about the real concerns and emotions of a teenager. The Outsiders marked the beginning of a new kind of realism in books written for the young adult market, and Hinton's next four books followed suit...

Read more at AboutSEHinton.com...
Inspiration for writing
"The "idea" for a story, more often that not, is something discovered by the reader while the writer continues to try to explain to herself where it came from! I am impelled toward writing by love stories, by the demands of my own imagination. I have been especially interested in writing about children as they encounter the daily surprises of life, frequent periods of loneliness, the inexplicability of events and the feelings they evoke." -S.E. Hinton