WebEssay. Click Here for Rubrics and Forms.
Part I -- Getting Started.
Open your essay. If you emailed it to me, it is already in your space on the network. If you posted it on the digital dropbox, open Internet Explorer, and go get it.
Open Netscape Composer. This is your web page editing window.
Switch back to your essay in Word. Press Control A to select all, and press Control C to copy it.
Switch back to your editing window, and press Control V to paste the essay in.
Save:
Click the Save button.
Use the drop-down to find your name/space on the server.
Click the little folder icon to create a folder called <yourfirstnameweb>. (Example: jordanweb)
Double click on it.
Name the file index and click save.
When the window for titling the page comes up, title the page "Web for <insert your essay's title here>." (Example "Web for The Money Plant.")
Format the essay...Fonts, etc. Page and link colors can be adjusted by choosing Format menu, and Page Colors and Properties.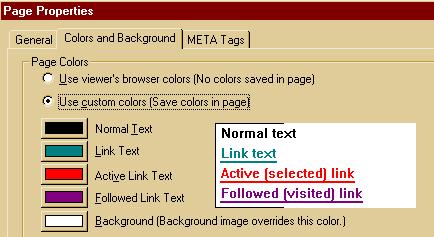 Save.
Part II -- Annotation/Explanation/Elaboration
Now you must decide on what words to make links out of to explain and expand on the essay. These are the extra pages that you will link to in your main essay, where you will provide, for example:
background
vocabulary/cultural references/slang translation/definitions
explanations of what you mean/interpretations
biographical information
extra description (SHOW not TELL)
other extra information
links to outside sites
See the rubric for all the requirements. Remember that your web must go at least three layers deep, so some of your required links can be in the second layer. Decide on the keywords from the essay and fill in the chart.
filenames should be 8 or fewer characters, no spaces, no caps
page titles should be capitalized and appropriate
Make a chart like the example below. Use pencil for this, because you will probably be making some changes, and make it big so you have a lot of room. I will be collecting this. Remember: Filenames should be 8 characters or fewer with no spaces and no caps. TITLES of pages should be capitalized and spaced!
| | | |
| --- | --- | --- |
| paintball gun | gun | All About Paintball Guns |
| night vision goggles | goggles | Night Vision Goggles |
| camouflage | camo | All about Camouflage |
| equipment | equipment | Equipment You Need |
| try it yourself | try | How to Get Started |
Then create each of the files by clicking on the New button.
Choose Blank Page.
For now, just type the title or keyword at the top of the page. You'll come back and write these pages soon.
Save, name and title like you did with the index page.
Part III -- Linking!
Select one of your keywords or phrases, and when your cursor turns into a little hand, right-click and choose Create Link Using Selected.
In this window, click on Choose File .
Browse to the web folder you created and find the file you made for that keyword. Double click on it. You now have a link!
Do this with all your keywords and phrases.
When you go back to work on the other pages, be sure to add a link on each of those pages back to the main essay page (index).
When you link to an outside site -- like when you use a picture from another site and need to give credit and a link back:
Surf to the site with the browser window.
Click once in the url box, and Control C to copy the address.
Go back to the editing window, select the keyword, right-click, choose Create Link Using Selected, and this time paste -- Control V -- the address in the Link to window.
Part IV -- Pictures!
First, using the browser window, find one you want, right click on it, and choose Save Image As.
Save it into the same web folder. You can leave the filename alone unless it has caps or spaces.
Go back to the editing window and put your cursor where you want the picture to be.
Click the button that says Image...
...and then Choose File .
Find the image you just saved.
Be sure that the box that says "Leave image at the original location" is NOT checked.
Done! You might want to surf and save all your pics first, and then paste them in.
Be sure to note where they came from, because you have to give appropriate citation.