Tomorrow's (Yes, tomorrow!) Test: V + V + HD + Sneetches.
No KBAR tomorrow night! Your chart should show three (3) complete lines tomorrow!
Special Offer to those who will be reading in January! You may record your performance on video and send it to me over the break. Then when it's your turn, I will simply roll the video.
---
Checking SMYK's.
"Vocab, 12/18." (13)
mesmerize, quarantine, hypochondria, pandemonium, defray, subjugate, resolute, intercede, disgruntled, wallow, pauper, *incorporate, *initiative, *acknowledge, *transport, *incidence

_____
 _____
_____
_____
The prefix of this word means under.  _____
We were completely _____(ed) by the amazing acrobatic performance.
Their argument probably would have become violent if the llama hadn't _____(ed).
The poor villagers needed someone to _______ on their behalf and help them to be treated fairly.
Fifth period is often the scene of _____, and that is why they rarely get a "10" from a guest teacher.
We held a carwash to help ______ the cost of the trip.
(2) They separated all the people with _____ to an imaginary ______. (haha)
* The drug has been linked with a higher _____ of certain cancers.
*If you want to meet her, you're going to have to 

take the _____

and introduce yourself.
VOCABULARY RELAY!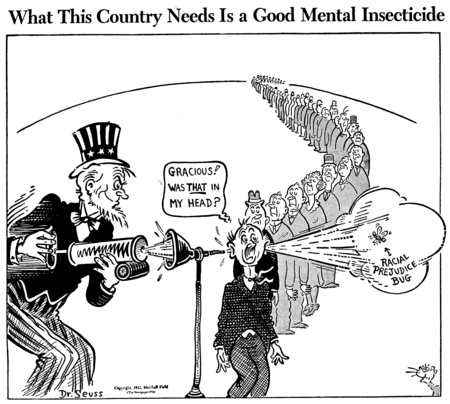 "The Sneetches" and "Yertle the Turtle."
What is a satire?
What makes people treat others differently? Is there a rule we can apply to determine when it is okay to treat others differently and when it is not? Intelligence? Looks? Talents? Morals? Friendliness? The fact that they like you?
---
"The Sneetches" was intended by Seuss as a satire of discrimination between races and cultures, and was specifically inspired by his opposition to antisemitism.
(Starts @:47.)
What makes people treat others differently?   So a star on your belly isn't difference enough? What is?
Test Questions Tomorrow:
What word best describes the attitude of the Star-Belly Sneetches toward the Plain- Belly Sneetches at the beginning of the story?
Before McBean arrives, how is Sneetch society set up?
"If they should meet one, while they were out walking they'd saunter right by without even ______."
"They had stars upon thars!" What does the word "thars" mean?
Why does Dr. Seuss use the word "eaches" in this poem?
Why are the Sneetches such a good target for McBean?
What lesson do the Sneetches finally learn?
Vladek.