Tomorrow's Test: NVA, Vocab (inc. SAWs), Plot (open notebook), Outsiders.
"NVA, 9/14." (9 to find.)
For a brief moment, Jimmy stupidly thought he could fly like a graceful bird across the blue sky.
_____
_____
_____
fear : panic :: ask : _____
Johnny persisted ____(ly) in asking about his parents.
My parents were a little _____ about the crowd I was hanging out with.
A good attitude is very ____ to doing well in school.
"You're hungry?" he said _____(ly), "I'm the one who hasn't eaten all day!"
A savvy person is usually more ____ than a credulous one.
The jury voted to ______ because there wasn't enough evidence to find him guilty.
The students ____(ed) the teacher to go easy on them. "Please?" they begged.


---

* The Outsiders is told from Ponyboy's _____. It would probably be quite a different story if it were told by Johnny.
Vocabulary Relay! Can anybody beat First Period???
The Outsiders.
PLOT. Copy into your notebook!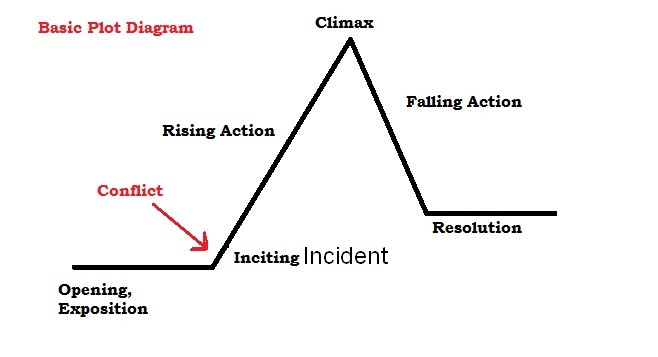 What would the inciting incident be in… Hatchet? Finding Nemo?  Lion King? Frozen?
The 5 W's (who, what, when, where, why) is usually given to us during the ______ of the story.
"And they lived happily ever after," would be the _____ of a fairy tale.
The scene in the novel where Pony tells Cherry (and us) about Johnny getting jumped is in the ______ of the story…
…and it also illustrates main ____ of the story.
Johnny stabbing Bob would be the _______ of the story.
We are now in the _____ of the story.
As we correct, write the answers on the diagram. You may use this cheat sheet on the test tomorrow.